As A True Oldies Internet Radio Station You Can Rest Assured That You Will Always Hear The Original Songs Covering Three Generations Of Music That Literally Changed The World Of Music & Entertainment.
Playing Music From The 50's, 60's And 70's, Cruisin Oldies Radio Is Keeping All Those Wonderful Memories Alive World Wide!
Cruisin Oldies Radio Is Your Home For The BEST Mix Of Oldies, Doo Wop, Soul and Rock 'n' Roll!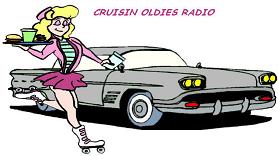 We Broadcast In Digital Stereo 24 Hours A Day Non Stop……
To Listen To Cruisin Oldies Radio, Just Click On The VU Meter OR Player Icons Below and Tune In To Either Our Broadband 128k Stream or Dialup 32k Stream!